DEEP INTO THE VALLEY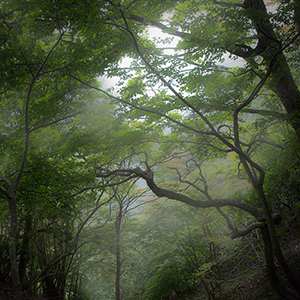 A one-time price of
$50.00
will be added to your order.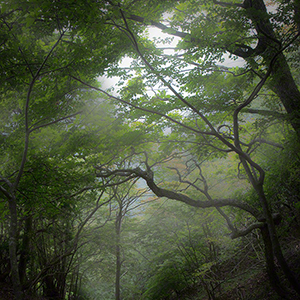 A one-time price of
$450.00
will be added to your order.
Oyama-san, or Mount Oyama, lies at the center of Kanagawa Prefecture, and it is said that Gods of Water and Thunder, as well as the Mountain God, reside there.
It took longer than I expected to get to the top of the mountain, which left me very little time to recover from fatigue.
By the time I descended halfway, it was already late in the afternoon with only a couple of hours before the place was to be covered in complete darkness. I wanted to stay and absorb the air of divine spirits, but sadly that was not an option I could pursue.
I followed the path which led to the bottom of the mountain in haste, but when I glanced over to the left, reflex stopped my feet. The view of the valley covered in haze was inviting me to get off the path and walk straight into the bottom of the valley. The cold air and no sound… They were so close but still not visible. I stood there and kept staring at it, knowing that I would see nothing and that I was not bold enough to jump off the path, either.
Moments have passed and it was time for me to move back into the world I was so used to living in. I slowly started to walk again, but with sentiments of gratefulness, to have been reminded of their presence.
Category:




Why you should sign up

Register with Moonlit Japan and receive seasonal discount coupons for ordering prints as well as newsletters (issued bi-weekly to monthly) with information on latest uploads.

You would also be able to:

View status of your recent orders as well as tracking numbers to know where your orders are
View your order history
Place new orders without having to enter your delivery details each time.